'What Has Happened in 20 Years Is Unbelievable'

By Genc Mlloja Senior Diplomatic Editor
Albanian Daily News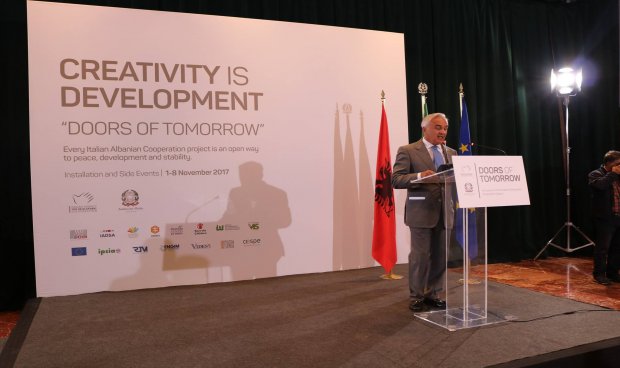 There is great potential for the growth of the Albanian economy, says the Head of Italian Agency for Development Cooperation (IADC), Nino Merola, who made a wrap up of the activities of the Agency in Albania while unveiling the ambitions for the future cooperation.
Speaking to Albanian Daily News in an exclusive interview Mr. Merola laid special stress on the maritime field seeing in what he called 'Blue Economy' an untapped potential source. "Italy has offered its partnership and friendship to Albania in order to start this action," he said, adding that work had already started on several topics and issues which are linked to the maritime economy, support to fisheries' activities, both industrial and artisanal, aquaculture, lagoons etc. "When we talk about environment we talk about nature. I think that Italy is the leading partner in this field. We have financed the creation of 10 national parks plus the national marine park that does exist in Albania. We consider that nature is one of the main assets for Albania's development not only from the economic point of view but also from the point of integration in EU," noted Mr. Merola full of enthusiasm for Albania's gorgeous nature.
- You have already been in Albania for two years and a half leading the Italian Cooperation in designing and implementing a very diverse portfolio in this country. It is well known your program called "Blue Economy" or "Economia del Mare". What does this program consist of, and which are its key interventions?
- Since Italy has been and is one of the most important partners of Albania we recognize that there is a great potential for the growth of the Albanian economy and we think that a potential source for this is the maritime field. Speaking of the 'Blue Economy' we have realized that there is a great potential in it which needs to be developed. So as Italy we have offered our partnership and friendship to Albania in order to start this action. We work on several topics and issues that are linked to the maritime economy, and one aspect is support to the fisheries' activities, both industrial and artisanal, aquaculture, lagoons because they are a great potential in Albania from the natural point of view but also from the economic impact.
In very practical terms, the first stock assessment campaign with a research vessel that belongs to the most famous Adriatic institute, that is the Generic Ancona, which has been making all the stock assessment of the Adriatic since 50 years, has already started work. The first campaign is in place right now in Albania for the pelagic and sardines because the two fish are the basis for a big industry in Albania. We are concerned that if the stock is not managed that good there will be a crisis not only from the national point of view but also from the industrial point of view.
We are also working to identify the needs of the fishing ports, in particular Durres, Shengjin and Vlora, in order to understand what investments have to be done at the land site and the ports themselves in order to create a basis for a sound fishing industry because it is an activity which has a great potential for the Albanian economy and it should be managed and organized since the beginning. There are also other minor activities but still of a great importance particularly when we talk about lagoons. A survey should be made on how is the situation of the lagoons today and to understand where the most important interventions need to be done and should be done.
In the frame of the grant project where all this work will be done we are offering a very soft loan with very profitable financing conditions worth 25 million euros in order to make all those necessary investments which we project for Albania the next 25 years with regard to the development of the maritime economy.
- Would you please give some details on the geographical map of this 'Blue Economy'?
- As I mentioned before geographically speaking we are more concerned with the north where the pelagic fish is more common and in this case the focus is Vlora, Durres and Shengjin. This doesn't mean that we are not concerned about the South. Sometimes we need to start from the part of the long coastline of Albania. So there is more interest currently in central and northern part. But we have other actions that belong to the South, particularly we are interested and are working at Porto Palermo. In Porto Palermo we want to understand what is the present situation and how it should be managed in the future in order to enhance its own beauty and capacity of attractiveness without harming it too much. The added value of Albania is that nature is still nice, it is still fresh, it is still real, not, for the time being, limited by human beings and resources which does not mean preservation as a rule; it means managing the areas in order to match the different needs and interests. So for the South it is not so much an industrial approach, rather it is a learning stage in order to come out with a management plan particularly for Porto Palermo.
- Italian Cooperation implements interventions in the area of health infrastructure. Which are some of the challenges you have encountered and what can you say on some of the results?
- Concerning the health issue and the public health system Italy has a long tradition. We have provided equipment, partnerships with renowned Italian institutions that come from Toscana region, for example. A lot has been done and a lot has to be done. Our present work and our future projects are mainly to work with the hospitals belonging to the coastline because they offer services for the tourists more than for the population. There are certain gaps that need to be filled particularly in the field of primary intervention, that is the emergency because the first 48 hours are the most important you need to be organized in hospitals. We are working with some hospitals to strengthen the capacity of emergency sector. In Vlora we are going to provide a special machine, the first of the kind for responding to potential accidents of divers but also treat certain illnesses through that type of machine. We try to combine two things in this aspect: the tourists and local people in order to maximize the contribution of the Italian people and government.
- Has this contribution given results so far?
- It is a complex problem of a complex system. There is a long chain of interventions. Something is there but the most has to be done. But we contribute to a certain task. There is another interesting example because we cannot fill all the chain. In the town of Lezha we have financed the system of energy through renewable power. We have put it on the roof of the hospital and through it energy will be lasting for decades. Concretely about 40 percent of the energy comes from renewable energy which is not only a problem of green energy but its impact is also elated to cost reduction. This is the first intervention of the kind and we hope it will become a model to be applied in other parts of Albania.
- You support a number of projects in the area of environment. What can you say on this aspect?
- When we talk about environment we talk about nature. I think that Italy is the leading partner in this field. We have financed the creation of 10 national parks plus the national marine park that does exist in Albania. As I said before we consider that nature is one of the main assets for Albania's development not only from the economic point of view but also from the point of integration in EU.
It is a given fact that Albanian nature is beautiful and more or less not contaminated and so it has to be managed and organized. The community should understand that parks can be of benefit to them. In Italy we have many examples where things have been done but without affecting nature and environment.
We need to do the same thing in Albania as tourists are coming for the nature, mountains, rivers, parks, lakes, lagoons; there are so many things that the European citizens are eager to see here. In our countries there is organization in the field of tourism but we do not have the places that give the sensation of untouched natural beauty. We are working on the land and the sea and there are a couple of years that we are working on connecting land and sea, connecting different parks and environments giving the touch of inherence and our aim is to include the community in all these actions not only for the tourists but for locals' own benefit.
We have also started to look at the cultural heritage in the sense what cultural value a national park can offer. For example old villages, stone houses, old churches, old mosques and other objects of the sort having a cultural heritage should be recovered. For example in areas of Gjirokastra or Permet such work should be done. We are involving our archaeologists and universities to develop such an approach in terms of history, culture, nature, local food.
- How can the awareness of communities be raised for the environment protection?
- The answer is very easy. If the community understands that nature brings benefits they immediately become the most active agents to preserve nature. If they understand that tourists come because their nature and environment are nice and clean they will preserve them as they will realize that their incomes will increase from the nature they have. We will give them the possibility to work inside the national parks because that will keep them the way they are but without strict fences for the communities that live just aside. We imagine that the communities can bring into the national parks their own herd or produce honey or collect medicinal herbs. By this way the community will understand the benefit and that combination of income with preservation of national parks will give a push to the effort of engaging the locals in environment protection.
- Youth unemployment remains a major issue for Albania. In the meantime a large part of youth lack skills relevant for the labor market. Can you tell something about your VET Training Programme? How is youth responding?
- Youth employment is a big problem. As Italian Cooperation we try to tackle the issue in two ways: first of all by creating new jobs in the rural areas or in the areas where we are active with our projects. For example I turn again to tourism because it needs employers of different specialities. We need to invest in rural areas or areas which are almost abandoned for the creation of jobs. Not all young people want to migrate. If an option is there at least you give them a choice. There are people who want to go anyhow but there are others that want to stay. We have already good example of youth getting engaged in work in Permet, Malesia e Madhe, Koplik area. They have turned their houses into guest houses or have become tourist guides. Another issue is the technical or vocational training, which refers to a wider number of activities and skills. We believe very much in vocational and technical training. Starting this year we are going to work at a school in Fier related to agriculture activities and we plan to work with a school in Durres for the marine jobs. We are aware that a huge work should be done in vocational training because there is a high demand for skilled people both in Albania and Europe, not only in Italy. When a young fellow comes out of a school being certified with a curriculum that is in line with European standards for sure you can get a job either here or abroad. We are doing our part and the response is very positive from the youth and the market.
- How do you run regional cooperation and in this frame are attempts made to coordinate work in the frame of 'Berlin Process' or any other regional initiatives?
- Italian Cooperation acts in two financial channels of cooperation. We work with grants and loans. When we work with loans most of them go for infrastructure. So in the past we have financed roads, bridges and many other things. We hope to finance fishing ports in the future facilitating, for example, the connection between regions and countries. This is connectivity. In this sense I think we contribute to the 'Berlin Process' and the connection of the Western Balkan countries. Somehow we try to do the same with grants but at a very different scale and completely different topics.
For example, we work on the rule of law in Albania and Bosnia by involving renowned Italian institutions that could help and support the reform of justice and make possible the achievement of good standards for the rule of law in the WB countries. We do not talk only on corruption and anti-corruption activities that are on top of the agenda. But we also talk the real functioning of the justice system and the organization of the judging. We compliment initiatives that are larger than ours maybe financed by the EU or others. Through bilateral grants or projects we bring in renowned Italian institutions like the anti-corruption agency, the school of magistrates which can provide know how and long-term connections. We promote the same approach in other countries taking into consideration the peculiarities of every country.
In the meantime regionally we work on the nature, and there are initiatives on such a scale. I give you an example and that is Via Dinarica which goes from Slovenia to the North of Albania passing through five countries. This is very important and can provide to the foreigners an idea that there is a trail that connects people and countries, and their traditions and cultures. We want to facilitate the natural barriers that do not exist and will provide facility to people to enjoy and move freely.
- As you mentioned justice system do you think that the judiciary reform has delivered and is giving results in Albania at a time when Constitutional Court and Supreme Court do not function?
- I think that Albania has made a huge effort in the field of reforming the judiciary system. And that is probably the only example in the world where such an effort has been put in place. Of course, everything has a side-effect or a counter-effect. Today we observe that there is a lack of capacity and there is a need of involving new people, injecting new blood in the system in order that the system be efficient and be present.
This is not a work that can be done within one or two years, it needs time. So there are positive and negative effects that should be combined most probably in the long term. But this is a good thing for the country and it is something which has been requested by the EU.
- Civil society organizations are supposed to play their role in enhancing transparency and good governance in democratic countries. How do you cooperate with civil society in Albania?
- With regard to the civil society we work through NGOs. We have a long tradition of the presence of our NGOs in Albania and many of them are distributed around the country from North to South, from East to the coastline. Civil society is the most important assets for a democracy and dialogue between the people and the government. So we attach a lot of importance to that. We do not strictly work with representatives of civil society associations but the NGOs that are linked to the territories they support keep contacts with civil society. I think a lot has to be done and it is worth to invest in that effort. There are other countries that work in this field like the Swiss, Swedish, Germans etc. We are doing our part.
- You are in Albania for two years and a half. How have you felt yourself in this country, and which are your impressions on its people, their history and traditions?
- It is clear that the perception in Europe about Albania has changed and keeps changing. It was a perception based on wrong impressions. But thanks to the work that has been done, thanks to the people that keep coming here and get back to their countries and report on the reality the perception is changing. And this is very important for Albania. Why? This is due to the fact that the Albanian people are pleasant, are nice, are helpful, have traditions that we have lost. In addition there is hospitality, there is attention to the human beings, there is socialization. When you go around in cities you can see people that talk over a cup of coffee which is something that we have lost- we get the coffee and rush away. That is not good for the health and the mind.
Things are changing very much in Albania and the country has gone a lot; what has happened here in twenty years is unbelievable. But there is still a lot to do to get the standards that the world has nowadays. But if you look at the past the future seems quite bright and we should be confident.