John Bolton's Firing: One Less Danger to Kosovo
Albanian Daily News
Published
September 11, 2019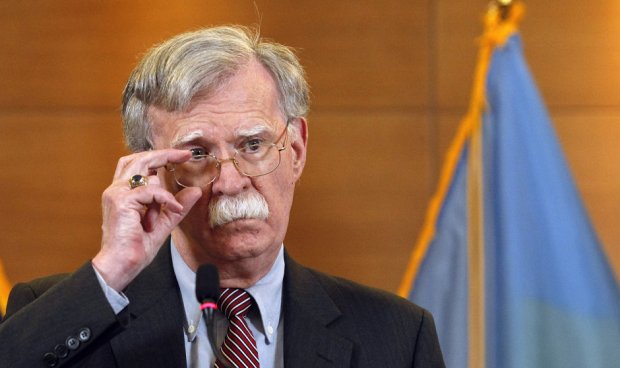 John Bolton wanted to bomb Iran, North Korea, Venezuela. For this reason, he was expelled from the position of Donald Trump's National Security adviser.
Bolton, a staunch opponent of Kosovo's independence, was the most vocal supporter of breaking down Kosovo's borders. He was the hope of Hashim Thaci, Alexander Vucic, Ivica Dacic and Edi Rama for the territorial design of the Balkans - according to Belgrade's plans. To show more servility to Bolton, Rama even fired Foreign Minister Ditmir Bushati, who had long warned that Kosovo should not swap territory to satisfy Serbian appetite and Tirana should not be part of the political adventure in the region. Bolton's spectacular expulsion proves Bushati right.
Who does not take up the guns, in John Bolton's eyes, is just a "dove." With these poultry, no politics is done, he is convinced. In his memoirs from 2007 Bolton writes: "I have achieved nothing of what I wanted to do in Iran." He wholeheartedly supported President George W. Bush's two wars - against Afghanistan and Iraq. He was now demanding a third war - against Iran, against the "mullahs' regime" as he called the leaders in Tehran. George W. Bush did not listen to Bolton because the president had failed with intervention in Iraq. In 2007 Bolton was forced to step down as US ambassador to the UN. It was a time when Washington was co-ordinating with major European countries to allow Kosovo to declare independence. Bolton was an opponent of Kosovo's sovereignty.
In an editorial published in late January 2008, two weeks before Kosovo declared independence, Bolton, along with former Foreign Minister, Lawrence Eagleburger and former Assistant Secretary of Defense ,Peter Rodman, demanded that the administration of President George W Bush to impede Kosovo's independence. Kosovo's independence, according to Bolton, will destabilize the region. In 2008 Bolton and Eagleburger were considered members of the small pro-Serbia fraction in the Washington political establishment. Eagleburger (died in 2011) had worked as a diplomat at the US Embassy in Belgrade between 1961 and 1965. After the earthquake in Skopje in 1963 he engaged in delivering relief supplies and was dubbed the "Lawrence of Macedonia" by the media - an allusion of the famous movie "Lawrence of Arabia". Between 1977 and 1980 Eagleburger held the position of US ambassador to Belgrade.
After leaving the post of US ambassador to the UN, Bolton and his mustache were often guests of US ultraconservative media and the Kremlin's RT propaganda television. In April 2018 Donald Trump, the championing president of the expulsion and replacement of staff, hired John Bolton as national security adviser. Bolton was where he wanted to be: on the decision board. He had direct access to the president, without Bolton, no (geo) political decision would be made. His dream was to overthrow power in Tehran. With the escalation of the crisis in the Persian Gulf, the blockade of ships in the Strait of Hormuz by Iranian forces, Bolton again intensified efforts to persuade the president to attack Iran.
Trump and Bolton love a strong America and don't care much about allies' opinion, but they both share the approach: Bolton operates on the principle of "first shoot, then talk", while Trump is not a military interventionist, he has won the election with the promise that it will turn American troops out of crisis and not engage America in new wars. Trump acts like a merchant who by all means wants to buy something. He sees diplomacy as one man's show - and that man should only be Trump. In this race Bolton turned into a barrier. He may be criticized for his tough approach to North Korea, for example, but even Trump's love for dictator Kim Jong-un is more than bizarre. The day has come when the US president sends a love letter to an Asian dictator and offends the prime minister of Canada, a country with which America shares all Western values. As inappropriate as Bolton may have been, there is now no one near Trump who can stop a little from bowing to the dictators of the world.
Trump's foreign policy is not consistent. He has expelled profiled experts such as Defense Secretary Jim Mattis or National Security Adviser H. R. McMaster. Trump regarded them as too soft. So it was Bolton's turn, for which Trump had only good words to say. Trump decided to withdraw from the Nuclear Agreement with Iran, withdraw all troops from Syria, and declare the agreement with Russia on Intermediate Range Nuclear Forces null and void. Has the world become safer with this policy? No.
Bolton was an adviser to chaos. But sometimes he was right. For example, when he opposed the president, who prepared a spectacle over the weekend: he would wait at Camp David for Afghan Taliban leaders to reach a deal. Such legitimization of the Taliban, from whose territory the 9/11 attacks were prepared, would be a blow to American credibility. But Trump does not worry about these things. He loves bargaining. Consequently, the president is preparing for a third summit with the dictator of Penjan and is seeking to meet unconditionally with Iranian President Hasan Rohani. The meeting could take place during the UN General Assembly this month.
Bolton has had a "special rapport" with Albania since the country received some members of the Mojahedin-e-Khalq-Organization, an Iranian militant opposition organization. Bolton believes that these mujahideen could be the future rulers in Tehran. Bolton was happy when Albania expelled some Iranian diplomats. And when John Bolton was happy, Edi Rama had to make it public on Twitter. All this in service of propaganda that "there is an American plan for Kosovo", which the Albanians cannot refuse.
Bolton had no concrete plan for Kosovo, but one goal: to break Kosovo's borders. In July last year, he met with Serbian Foreign Minister Ivica Dacic and said Washington is ready to strengthen co-operation with Serbia. At the end of August 2018 Bolton stated in Kiev that the US will not directly engage in talks on Kosovo's new borders, but if the parties agree, then America does not object. "We do not oppose the correction of borders," Bolton said. It was the same vocabulary Thaci used in his apocalyptic language. At the end of November last year, Bolton was again involved in the debate over Kosovo. He called on Kosovo and Serbia to "seize the opportunity" to resolve their tensions and move closer to the European Union. Bolton then met Hashim Thaci in Washington. In mid-December, a letter from Donald Trump (actually Bolton's letter signed by Trump) arrived to Pristina and Belgrade, with Thaci and Vucic as presidents of the two countries being urged to seize the moment for historic agreement. Trump lured Thaci and Vucic with a signing ceremony at the White House Rose Garden.
In this years' Mid-July, Serbian Foreign Minister Dacic met again with Bolton, with whom, according to Belgrade media, he spoke about the promotion of bilateral relations at all levels. In early August, a year after Thaci launched his festival of press conferences, insults with Sali Berisha and "coffee" meetings with Edi Rama, a year after the Albanian public was told that the correction meant that Kosovo would take over the Valley of Presevo without giving a centimeter of Kosovo's territory, a Bolton's visit to Belgrade and Pristina was announced. Following Ramush Haradinaj's resignation as prime minister, Bolton's visit, according to Voice of America, was postponed. Then some media in Pristina announced that Bolton would come when punitive tariffs on Serbian products were lifted and the new government will be set up. For 16 months in office, Bolton was very active in pushing ahead with plans to demolish the state of Kosovo in this form. His deportation reinforces the role of the State Department and special appointee Matthew Palmer. If the next national security adviser does not remind Kosovo of Trump, he will no longer remember the topic. Trump's attention to an international policy problem usually does not last more than five minutes.
Following the departure of Federica Mogherini as EU chief diplomat, after the transfer of Johannes Hahn to another post in the EU Commission, Bolton's departure represents the next departure of sponsors and supporters of the division of Kosovo. It will be interesting to see if Kosovo's President Hashim Thaci will continue to commit to "correcting the borders" in the future. And it will be equally interesting to see if LDK Vice President Lutfi Haziri reiterates his promise made a year ago to unite Presevo, Medvedja, Bujanovac, the railway and the highway with Kosovo. Not all, but many things will depend on the future government of Kosovo. Will it be a government subject to pressure or not? Will it be a government that refuses to demolish the borders but gives up on the association of Serb municipalities? Debates over Kosovo's partition have stimulated Serbia's appetite. During a few days visit to Pristina and Belgrade by Senators Chris Murphy and Ron Johnson, the message was unpleasant for Kosovo. Johnson, who is clearly biased towards Belgrade, said America wants to do everything to support dialogue and the process in which both peoples, Serbs and Albanians, must give and receive something. Kosovo's new government will face the catastrophic consequences of the policies of Hashim Thaci and Ramush Haradinaj. The former has negotiated the change of borders, the second said he has no time to deal with the dialogue between Kosovo and Serbia.
In Bolton's memoirs, a chapter on his time as US ambassador to the UN carries the title: "Fear and contempt." There he demonstrates with pleasure how diplomats are scared and scorned by his opponents. Associates who opposed him for distributing information that was inconsistent with Bolton's intelligence findings excluded them from the meetings. A Republican senator has said of Bolton: "He is an exemplary case of how one should not be in the diplomatic service."/Dialog Plus.