President and OSCE's Borchardt
By Zef Mazi*
Albanian Daily News
Published
November 21, 2019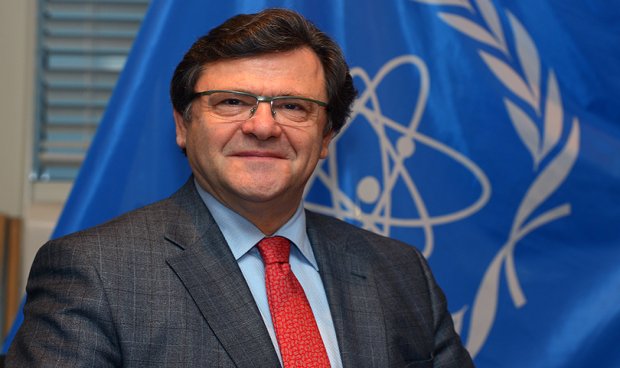 For several days now, the media has commented for and against, the decrees or decisions of the President of the country.
In the meantime, I cannot help but be shocked by the extreme, frightening, polarization of politics and attitudes of the people in our country.
It looks like the place is divided in two! A friend, a few years ago, after I asked him how things were, he told me, "They're all right, just like our enemies wish!"
Then I took this expression lightly, as if in jest. Today it sounds quite real. The political class that we ourselves have elected for over three decades has led the country to this condition we are facing nowadays.
Different opinions, speculations, all kinds of reasoning, from sources who know something or have no knowledge in the field of diplomacy, give their opinion in audio-visual or print media, especially on the issue of the Head of OSCE Presence in our country, Bernd Borchardt.
I have noted in some articles that he has not been assigned "ambassador". The OSCE does not appoint ambassadors anywhere. It is a regional organization in the framework of the Chapter VII of the UN Charter.
It does not have its own statute as a fundamental legally binding document for all participating States. Borchardt was nominated at the post by the Secretary General tohgether with the OSCE Chairperson-in-Office (i.e., two signatures, as a rule), after considering candidacies submitted by the OSCE participating States for this post.
For the sake of this short article, I am not delving into whether or not there is, or should be, a diplomatic status and immunity for OSCE foreign staff in our country, as I know quite well how and why some things have been done under pressure, in situations very difficult country in 1996-97, when I was ambassador of the Republic of Albania to the OSCE.
I emphasize that what is said in this article in the Day is nothing personal, not at all.
In the meantime, I am intrigued by some arguments, as have been commonly heard in the last 30 years, of some persons supporting actions of any foreign representative from bilateral embassies or multilateral missions in our country, even when they are completely wrong or unacceptable.
We are entirely to blame for this. We have gone so far as to fetishize them, though the work they do is little known, or at all. The respect for the good work that the various partner countries have done, including the great majority of their representatives in us, has not decreased at all, on the contrary.
It is well-known that, from crisis to crisis, where we have entered ourselves and the country with low democratic education and the bad work that is being done, it has been outsiders who, after all, have intervened, at times very well, at times not so well, and have managed to calm or fix the situation.
This sedation has been somewhat fractured, not firmly based in deep roots, but just to get it over with. An unstable stability has been set at the expense of democratic but manageable progress without much effort and force.
I'm afraid that today we are in a very similar situation. I do not know how to get out of this situation if there is no political will, no clarity for the future but there are party, beneficiaries, corrupt, short-sighted, exclusionary interests, and not at all in the national interest.
Long experience in the profession has taught me that any wing that has been in power has tried to hide behind saying, "the internationals agree, they support us, we have done this work with the internationals", etc., nonsense. These words are still heard today.
Those in power have always sought to make the internationals "speak well of them, report positively about them to their centers". This puts them in a position to stay in power, earning points for "being, presenting, or being commented on as good collaborators with the internationals" and so on.
For their part, the internationals do not seem to understand, and it is not excluded that they "embellish and report" increasingly difficult situations, comment on them and give their impressions in non-positive colors, noting that cooperation with the government is close, good, government works well ", etc.
Both sides seem to be "supporting each other", "are committed", "work more closely to improve the situation and move the country forward, strengthen democracy, the rule of law, justice, etc".
Embassies and international organizations, it is a principle and a practice, always maintain good relations, seek to maintain good relations with the government!
In this context, works situations should be analyzed. This is how it is in reality, there should be no illusions. In this light, one should also consider Borchard's utterly unacceptable and reprehensible deed, that of throwing the middle finger to Astiri residents.
Such a gesture has never happened, in any case or place, in my more than 30-year-long memory of foreign and diplomatic policy for Albania and in senior leadership positions in international organizations overseas. There is no excuse for that and we should not accept it! On the contrary, he must be condemned.
The excuses for his action make this fact even more unacceptable, more ridiculous and make him not trustworthy.
Diplomats, especially those at high levels, have the professional, ethical necessity, demand and obligation to never lose control, even in the most difficult, most flagrant and unexpected cases, to make no compromising gesture, without counting here the heavy, offensive, extreme gestures, as the case in question.
It is not up to me and I cannot comment on the President's decisions. Decisions are exclusively his authority. He has expert advisors in many areas. In the meantime, I add that the decision of the President of the Republic to consider Borchardt as unwanted for meetings in the Presidency must have come after considering many circumstances.
Although one may find the decision unusual or ostensibly justifiable after Borchard's "self-criticism", it is the exclusive right of the President to make decisions that he deems reasonable and accurate.
The president of our country is ours, he is one of us, and he is Albanian. He has been elected in that high post, as a symbol of unity and guardian of the country's Constitution. He should not be sold to anyone, nor be offended for political, corrupt political reasons today or tomorrow, or momentary.
Your country's president should never be put in a scale or be compared with foreign diplomats in our country. The latter are sent to protect and advance the interests of their countries with us, they are temporary, with all due respect.
I further emphasize, that no one can value, let alone exalt or fetishize foreign ambassadors or diplomats more than you value your country's diplomats or ambassadors. When this good balance, this appreciation and respect is established, then the country will really start to move forward, without fetishizing, in mutual respect, with dignity and integrity.
Borchard has lost, I would say completely, the credibility to continue working at the head of the OSCE Presence in our country. He has gradually turned, as already seen, into a divisive figure in our country.
Although what I am saying may not be approved by everyone, whether in power or in politics, it is correct: when a stranger, diplomat or former diplomat, when things have gotten to this point, when situations have evolved so, he would do justice and good service to the organization that sent him and his country of origin, resigning the post (he knows how to find excuses) and finally announcing his departure from the country., and not to say "leave me alone", which reads: "don't disturb me".
No normal state would endure this!
* Zef Mazi, former Ambassador of Albania to OSCE