By Enver Robelli
Albanian Daily News
Published
December 28, 2019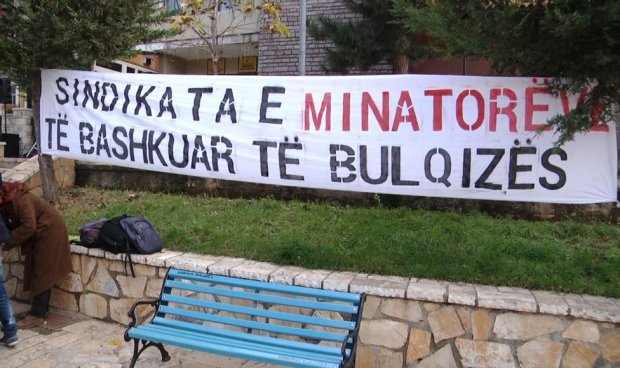 The oppression and dismissal of miners in Albania show the dark side not only of the economy controlled by oligarchs. The arrest of activists in Tirana, who support miners, is just as scandalous as the remaing silent of albanian public opinion.
27 miners died in the areas of Bulqiza and Martanesh since 2014. Thus, more than the half of the victims caused by this November earthquake in Durres and surroundings. The Albanian opinion has not even heard regarding these deaths. The consecutive deaths of miners didn't make it in the headlines of traditional and digital media. Almost no one is alarmed. In the television studios the usual noise has continued, which has not ceased since the fall of communism.
The miners of Bulqiza and Martanesh have established an independent union to defend their rights and seek safer working conditions. The miners have committed no crime, they have established an organization under Albanian law in force. In any democratic country, union organization is permissible, even desirable. The AlbChrome company not only it didn't seriously consider miners' demands, but it also has fired four unionist miners. In a capitalist country like Germany, for example, it is almost impossible to dismiss unionists.
In the mundane Tirana, where political thieves and publicist rule and benefit together, the tragedy of the miners of Bulqiza and Martanesh does not receive the proper attention. Those few activists protesting the oppression and exploitation of workers are arrested by the police. How can some activists who support a just cause of miners be held in prison and treated as criminals?
MPs calling themselves socialists remain silent. There is silence also from non-parliamentary opposition MPs, who are full of accusations against cruelties of those in power and oligarchs. When it comes to actual engagement, almost everyone is indifferent because they probably don't want to risk a confrontation with the power of the oligarchs. Why then do these people call themselves politicians? They may call themselves servants of the oligarchs caste.
More sweat, more oppression, and less money: this seems to be the motto of the Albanian oligarchs not only with miners, for which they do not respect their dignity. Focusing only on profit multiplication, the oligarchs do not treat the miners as humans but as instruments in the great gear of rampant neoliberalism. Result is evident: 27 persons dead. Who raises the voice of protest - gets fired. Who protests in support of miners - be arrested. A country that tolerates such injustice can hardly be called normal. A country in transition, they bureaucrats in Brussels like to call Albania, but a considerable number of them think it is a "lost in transition" country.
Kamber Iljazi, one of the union leaders in Ballsh, where the Albanian oil extraction center is located, told the German newspaper Suddeutsche Zeitung in 2018 how the oligarchs operate. Since 2008 the oil refining company has been privatized several times, all the firms that bought it were "offshore" (companies based in tax-free zones), they made huge profits, made no investments, and eventually left while leaving behind a large amount of debt. Everything, according to Kamber Iljazi, is covered by the government in Tirana, whether they are Socialists or Democrats. You are asking the workers in Ballsh where their children are, all the answers: "in Germany", "in Italy", "in Sweden".