Albanian Medical Staff in Italy Grabs even Sports Headlines
By E. Halili
Albanian Daily News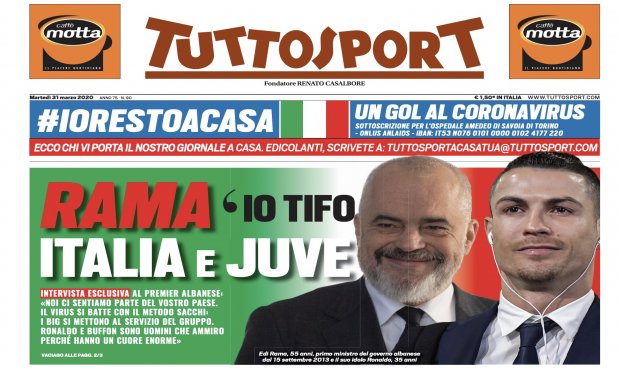 The Albanian government's initiative to send 30 doctors and nurses to Italy continues to echo in the media across the Adriatic, grabbing even the headlines of sports newspapers.
Italian "TuttoSport" published this Tuesday an exclusive interview with the Albanian Prime Minister, Edi Rama, where he showed again his love for the Juventus club and Italian football.
"I am a fan for Italy and Juventus", this is Tuttosport's headline: "We feel part of your country. The virus is defeated by the Sachi method (former Milan coach). The great ones are placed at the service of the group. Ronaldo and Buffon are people that I admire because they have a great spirit," says Tuttosport on the front page. The Torino daily mentioned once again Edi Rama's statement, when he decided to send doctors to Italy: "We are not rich but we do not forget. You have always supported us and we do not forget friends in difficult times."