June 30 Elections, Meta Worried about Fratricide
By E. Halili
Albanian Daily News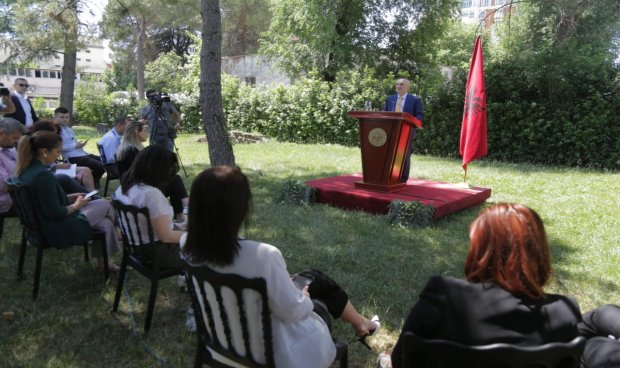 President of the Republic, Ilir Meta stated this Friday that a fratricide was almost to happen in Albania before local elections of June 30, 2019.
President didn't spare criticism for both opposition and ruling majority for their rallies and anti-rallies back than before the local elections, which caused tension between parties and which lead President to the cancellation of the local elections in order to avoid a civil unrest.
But Meta had a complaint specifically for Prime Minister, Edi Rama, noting that the President has waited the Premier in his office to discuss on the situation, while the latter went bathing in the pool.
"Last year we were near a fratricide. On party organized rallies, while the other party organized anti-rallies. What should I do ?! I told him that without comprehensive local elections, the Copenhagen criteria will be violated. Because in Europe not only do they know things well, but a couple of serious men have come out and said: 'Make comprehensive elections'. I also supported them, because they know the Copenhagen criteria. I said: 'Let's hold local elections normally, because in Europe they are trying not to separate us from North Macedonia regarding the EU integration.' I was then forced to avoid collisions and tried to sit down with parties. Do you remember that I was waiting for the gentleman here, while he was bathing Sheraton's pool. I have said that If the elections are not held, the conditions will increase," stressed Meta.
Non-parliamentary opposition boycotted the local elections of June 30, claiming that there are no free and fair elections with Prime Minister Edi Rama, but the ruling majority decided to continue with the elections without the participation of the opposition. President Meta cancelled the local elections in order to avoid a possible civil disorder as the opposition had organized several protests and ruling majority was determined to enter elections without them.